On December 5, 2020, Civil Engineering Department, Universitas Jember held an international guest lecture entitled "Role of Reinforced Concrete Structures in Earthquake Disaster Mitigation" using Zoom platform. Prof. Akira Hosoda, head of Concrete Laboratory, Faculty of Urban Innovation, Yokohama National University was the speaker of the event.
International guest lecture was started at 08.00 AM. After watching "Civil Engineering Department Video Profile", singing Indonesian National Anthem "Indonesia Raya" and "Hymne Universitas Jember", the event was opened by Rector of Universitas Jember, Dr. Ir. Iwan Taruna, M.E.ng.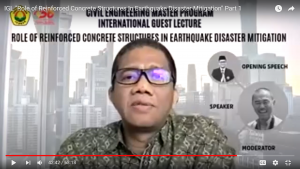 Prof. Akira Hosoda started his lecture by introducing several researchers on his field, such as Prof. Hiroi, Prof. Yoshida, Prof. Kokubu, Prof. Ferguson, Prof. Maekawa, Prof. Okamura, and Dr. Ishibashi. He showed that Japan and Indonesia lay on intersection between several tectonics plates. That causes many earthquakes and could make some kind of building structures getting collapse. Railway concrete structures become the most collapse issues in this session of guest lecture.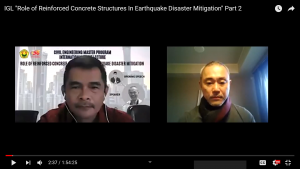 After introducing those several researchers, Prof. Akira Hosoda started to explain the first invited paper published by Japan Concrete Institute 2009, and authorized by Tadoyoshi Ishibasi and Daisuke Tsukishima entitled "Seismic Damage of and Seismic Rehabilitation Tehniques of Railway Reinforced Concrete Structures". There were so many kind of earthquakes happened in Japan. But in this paper, Prof. Akira Hosoda explained that Miyagi perfecture earthquake in 1978 was the big trigger that caused serious damage to railway concrete structures in Japan. As the result, the seismic design standard was revised in 1983 and it showed a higher performance than before.
Now, because many constructions are designed by all design code before 1983, those structures must have a lower seismic performance and should be retrofitted appropriately.  Prof. Akira Hosoda also explained some kind of damage types caused by earthquake. Those damage types were classified  into  A (collapsed abutment, upper beams and slabs were sounds),  B (fallen viaduct), and C (slightly damaged viaduct and slightly subsided viaduct).
Seismic design and rehabilitation also made to prevent shear failure column caused by large earthquakes. In order to enhance the seismic capacity of the whole structural frame,  the ductility capacity of column member is enhanced so that better absorption of earthquake energy could be achieved. There were a lot of seismic rehabilitation methods and technologies showed by Prof. Akira Hosoda based on Ishibasi and Tsukishima (2009) such as still plate jacketing method, still damper and braces method, rib-bar and rib-plate method, etc. Those kind of methods or technologies were made to prevent catastophic shear failure that mostly occurred in column. It caused a big problem to builing structures especially railway concrete structures in japan.
Continuing the second session, Prof. Akira Hosoda also explained the second paper entitled "Seismic Performance Evaluation of Masonry Infilled Reinforced Concrete Building Utilizing Verified Masonry Properties in Applied Element Method" authorized by Arifa Iffat Zerin, Akira Hosoda, Hamed Salem, and Khan Mahmud Amanat in 2017. This paper showed us about the seismic performance and retrofitted structures using structural analysis software 'Extreme Loading for Structures (ELS)' based on Applied Element Method (AEM). Applied Science International 2010 has been utilized it for numerical modeling and analyis of MIRC speciment frames and MIRC full scale building structures.
On the third session , Prof. Akira Hosoda showed us that the keyword in this guest lecture is 'Shear Failure' and then the last session has ended by question and answer session. That was a very engaging session because there were lots of participants have asked great questions during the session and Prof. Akira Hosoda felt so glad to knew that the participant understood about his lecture.
Link to the recorded video of the international guest lecture is as follow:
The materials (two journal papers and presentation file can be found here.
Resumed by: Haikal